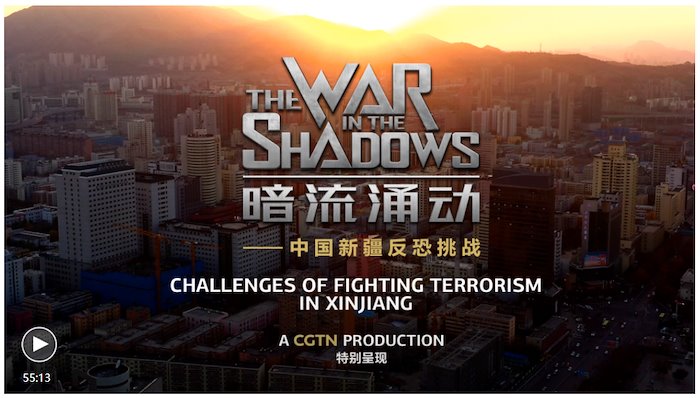 I highly recommend you to watch CGTN's Xinjiang anti-terrorism documentary series. This documentary series profoundly exposes the harm of religious extremist ideology, as well as the internal and external challenges Xinjiang anti-terrorism is facing. 
It is the consensus of every country in the world to protect people's lives, resolutely fight against terrorism and ensure that terrorism has no place in the world.
China government has made great efforts to safeguard regional stability, prosperity and development of Xinjiang and the safety of its people. The establishment of vocational training and education centers is one of the important measures. By equipping the people of Xinjiang with the knowledge and skills to make a living, it protects them from extremist ideology, improves their living standards and greatly increases their happiness. In the past four years, there has not been a single terrorist attack in Xinjiang, and the people in Xinjiang live a stable, safe and happy life. This is the direct proof that the anti-terrorism work in Xinjiang is successful and on the right track.
The West is well aware of this, yet it repeatedly fabricates lies about the so-called "human rights issue" in Xinjiang, and even defames the vocational education and training centers as "concentration camps" and our poverty alleviation programs as "forced labor." It publishes all kinds of disgusting, shameful and false news. This is a grave insult to the people of Xinjiang, to those who give their hearts and lives working on the frontline of counter-terrorism, and to the 1.4 billion Chinese people. We will never allow these shameless acts to defile our divine and beautiful Xinjiang, our great motherland and the pure and kind-hearted Chinese people of all nationalities.
A word of advice to the west, stop your bullshit lies about our Xinjiang, if you really care about human rights, take a look in the mirror at the minorities in your own countries and those who "can't breathe".
我非常推荐大家去观看CGTN出品的新疆反恐纪录片四部曲。因为这套影片深刻地揭露了宗教极端主义思想的危害,以及中国新疆反恐所面临的内部和外部挑战。
保护人民的生命安全,坚决打击恐怖主义,力求恐怖主义在这个世界上没有立足之地,这是世界上每一个国家的共识。
中国政府为了维护新疆的地区稳定,繁荣发展,新疆人民的生命安全,付出了极大的努力。设立教培中心,就是其中一项重要的举措。以教育的形式赋予新疆人民谋生的知识和技术,保护他们不受极端思想的侵害,改善他们的生活水平,大大提升了新疆人民的生活幸福感。过去四年,新疆没有发生一起恐怖袭击,人民生活稳定,安全,幸福,这在很大程度上证明了中国新疆反恐工作的成功和方向的正确。
西方很清楚这点,却一而再,再而三地编造所谓的新疆"人权问题"谎言,甚至污蔑教培中心为"集中营"、我们的扶贫项目为"强迫劳动",造谣刊登出各种不堪入目无耻的虚假新闻。这,是对新疆人民的极大侮辱,对坚守在反恐第一线工作者的极大侮辱,是对14亿中国人民的极大侮辱。我们决不允许这些无耻的行为玷污我们圣洁、美丽的新疆,玷污我们伟大的祖国母亲和纯洁、善良的各族人民。
敬告西方一句,停止你们狗屁不通的谎言,如果你们真的那么在乎人权,先照照镜子看看你们自己国家的少数族裔,还有那些"不能呼吸"的人们吧。