Chapter 1: 思如菌菇 (Thoughts like mushrooms)
"思如菌菇" (Thoughts like mushrooms)
Thoughts grow like mushrooms, wave upon wave, everywhere is fertile ground for thought spores to spread.

Alan Watts described overthinker's thoughts as "Chatter in the skull, perpetual and compulsive repetition of words, of reckoning and calculating."

I can relate to his description, as I have a very noisy inner world, and I often need to use loud and strong music to counter that non-stop chatter in my skull.

Overthinking is not a praiseworthy merit, people who think a lot often feel anxious, oversensitive, paranoid and depressed. But like every coin has two sides, overthinking can be a character which leads to clarity and creativity, depending on how you balance the pain and the gain. Having said that, I still can't manage to balance these two. If you succeed in doing so, please show me how.

"思如菌菇" (Thoughts like mushrooms) is the first chapter of my current self-exploring art project ( tentatively named "Breeds of Self"). I mentioned in my previous post, it is the biggest and most complex art project of my career so far. "思如菌菇" (Thoughts like mushrooms) is just a very tiny part of this project, but it is the center and the most important element in my plan, and you will see why in my next post.

Starting with this post, I will unfold this large-scale art project bit by bit. The coming chapters are gradually forming a microcosm of my inner world. I wish these works would resonate with you, and I hope you will find comfort in viewing them.

Thanks for reading, see you next time, all the best!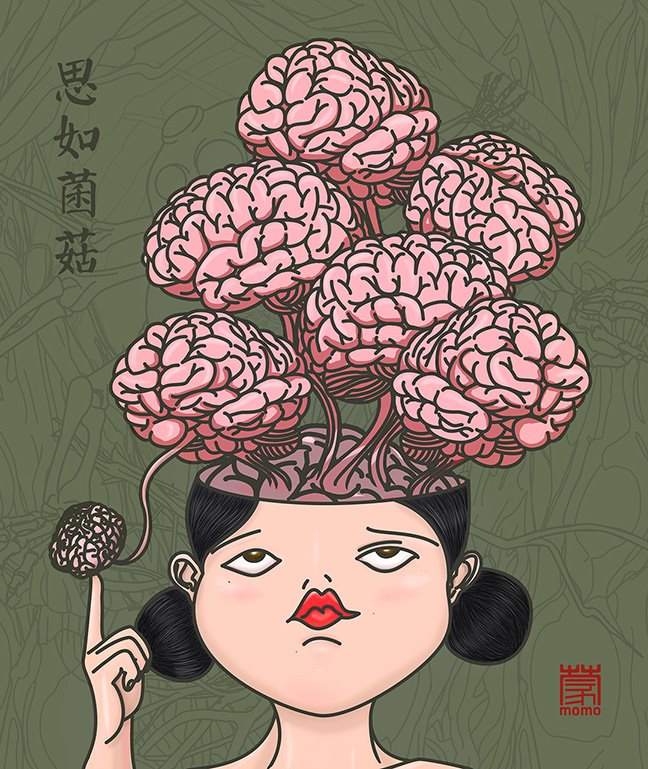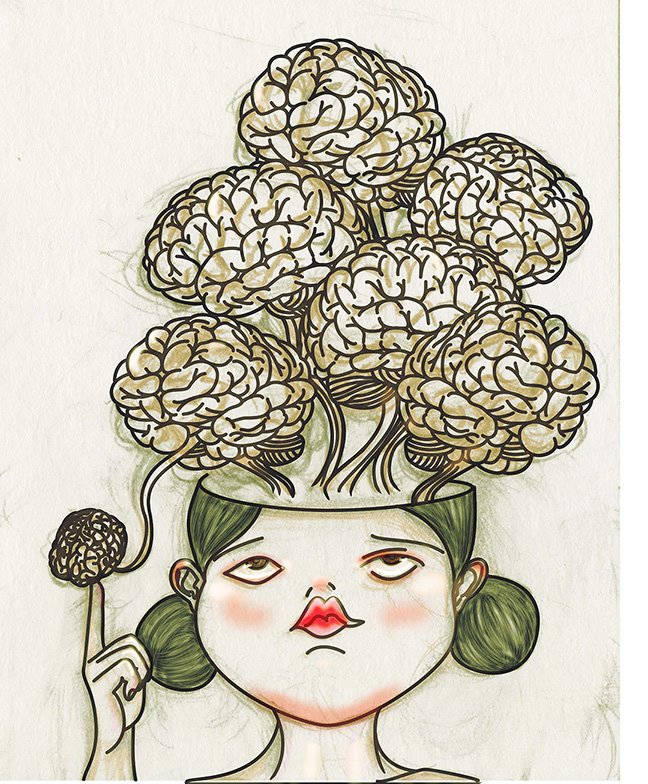 Chapter 2: 巢(The Lair)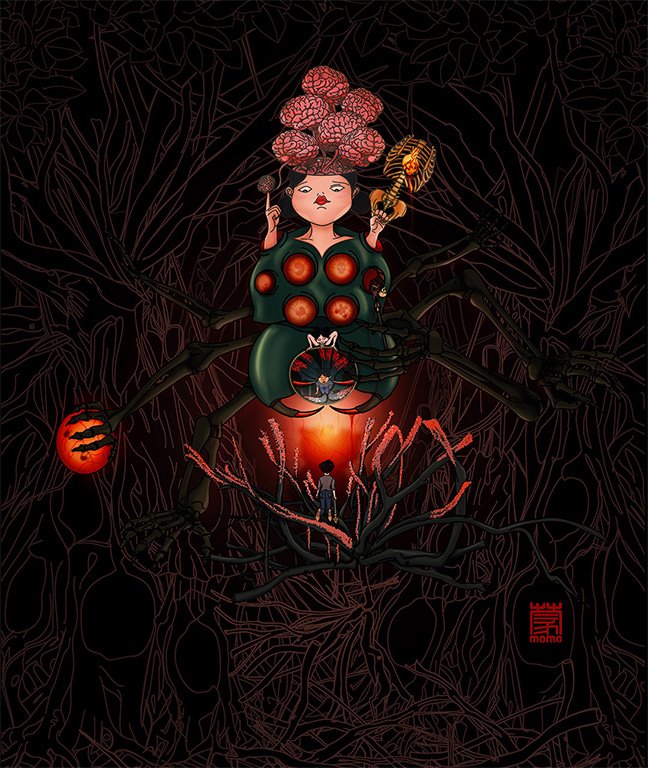 耳边的咆哮声越发震耳欲聋。我难以分辨这连绵不绝的声声嘶吼是要阻遏我的前行还是一种狂妄的邀约。我只知道自己在一双双骇人的眼球的凝视下,已经抵达了森林的原点,那个孕育了我所有痛苦的地方。于是我握紧了手中的长矛,给自己壮了壮胆,爬进了那泛着红光的巨大巢穴。

眼前这屹立于半空如苍穹般巨大无比的存在把我深深地震慑住了。她,就是巢穴的主人,无尽梦魇的制造者,一只似蜘蛛却又拥有人的脸孔,能够自体繁殖的庞然怪物。她是如此的丑陋,又是如此的摄人心魄。菌丝般繁茂的脑群在她的颅顶不停地舞动,把每一个疯狂的念头如精子般精准地扎入她甲胄上那一颗颗血红色的思维卵泡,点燃了一波又一波狂热的心跳。半成熟的受精卵由骷髅长臂转移置入森林密密麻麻的树洞中继续孵化,成熟之日,灵魂的啃噬者们就会破卵而出,蛀蚀那每一寸的平静与理智。

连绵不绝、振聋发聩的心跳声浪让我异常烦躁。我举起长矛,瞄准她身上鲜红的卵泡,用尽全身的力气愤然掷去。刺鼻的血腥味迎面扑来,一股血柱流淌了下来。

"真可惜,我可是很用心地为你制造这个玩伴呢。"她平静地俯视着我说。

"别担心,她自己已经填补上了那空缺。"从她口器里爬出来的那呲牙咧嘴的诡异生灵笑着说。

我望着镜子里的人像,深深的恐惧让我颤抖。
The roar in my ears becomes more and more deafening. I can't tell whether this continuous infernal noise is meant to stop me from moving forward or an arrogant invitation. All I know is that under the gaze of many terrifying eyes, I have reached the origin of the forest, a place where all my pain has been born. So I clench the spear in my hand, embolden myself, and climb into the huge red glowing lair.

The incomparable existence that stands in mid-air deeply shocks me. She is the owner of the lair, the maker of endless nightmares, a gigantic creature with a spider-like body and a human face, and a monster who is capable of self-reproduction. She is ugly, but also captivating. The mycelium-like luxuriant brain group keeps dancing on the top of her skull, piercing innumerable crazy thoughts into the blood-red thought follicles on her armor like sperms, igniting waves of fanatical heartbeats. Transferred from her exoskeleton to the forest's dense tree holes by the skeleton-like long arms, semi-mature fertilized eggs continue to hatch rapidly. On the day of maturity, these soul-gnawers will break through the shells, and eat away every inch of my peace and reason.

The continuous cacophony of heartbeats irritates me. I raise my spear, and hurl it with all my might towards a bright red fertilized egg on her body. The pungent smell of blood comes head on, and a column of blood flows down.

"What a shame. I worked so hard to make this playmate for you." she says calmly, looking down at me.

"Don't worry, she herself has filled the vacancy." An eerie creature crawling out of her mouthpart grins.

I look at the figure in the mirror, and tremble with deepest fear.

There is a dark and dense forest hidden in my heart...

To be continued...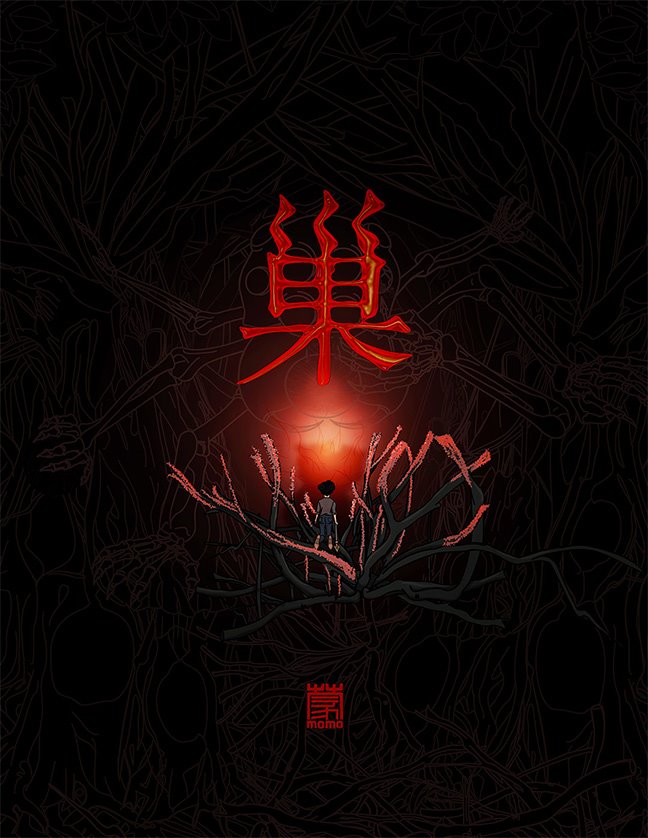 Chapter 3: 连体婴(The Siamese Twins)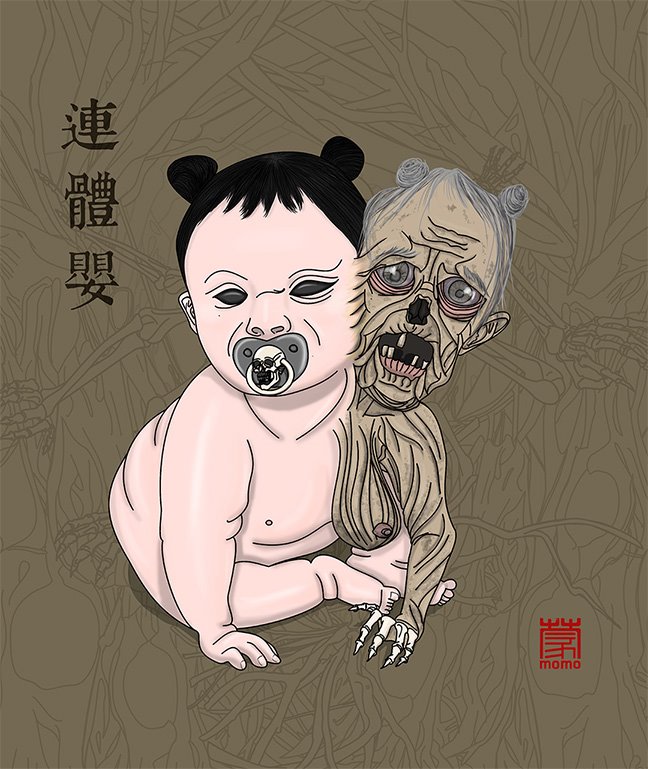 Irvin D. Yalom describes life as "a spark between two identical voids, the darkness before birth and the one after death."

If I were to give this transient spark a figurative body, I imagine it would look like a pair of Siamese twins, an infant and an elderly being, both ends of the lifeline coexisting in one body, sharing very limited and precious life resources, such as time, health, courage, knowledge and experience.

Today's society and media like to establish the young and the old as two seperate and hostile groups. The young people blame the old ones for being stubborn and seizing social resources, while the old folks consider the young people as selfish and defiant. If only everyone can see the Siamese twins living in their own body, perhaps this kind of hostility will cease to exist, and the virtue of respecting the old and loving the young can be truly carried forward in our society. After all, young people will get old, and old people are just young people who grow old.

By the way, if you've seen my previous work "The Lair", you might notice that there's an uncanny shadow lurking in the center of the illustration. That's right, it is the Siamese twins I introduce today.

Thanks for reading, see you next time, all the best!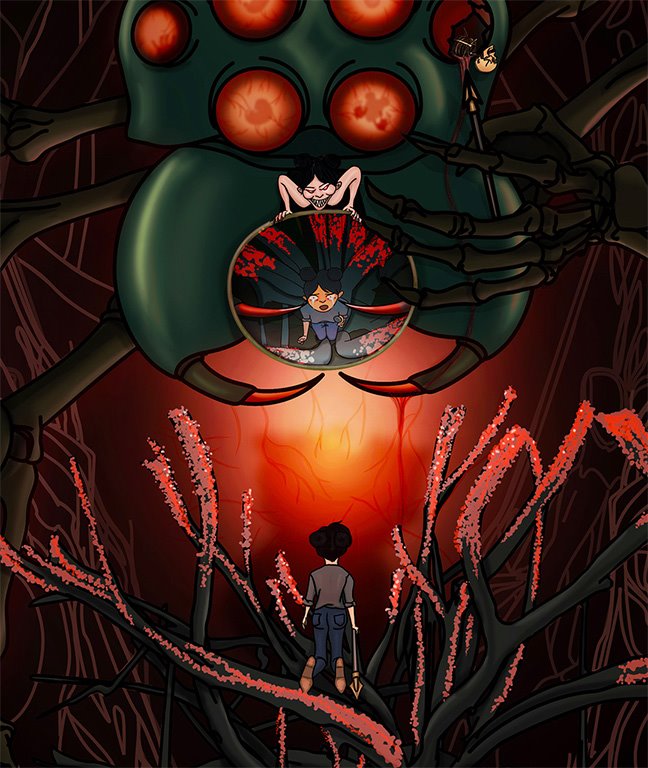 Chapter 4: 笑的蜕变 (The Metamorphosis of Laugh)